Enhance Energy Efficiency, Security and Building Performance
Outdoor lighting, especially in parking lots and garages, represents a significant aspect of facility operations and maintenance, and it is often controlled independent of other building systems. Limelight by Lutron streamlines specification and design, makes your outdoor lighting smarter, and can connect to Lutron Enterprise Vue software to control all building lighting from a single data and management platform allowing for easy compliance to the most recent energy codes including IECC, Ashrae, and Title 24.
Motion Sensing
Motion Sensing turns lights on when occupants are in a space & off when they vacate the space
Program entire floor or area to turn on when an occupant enters from a stairwell or elevator; have all lighting in the lot turn on in response to an entering vehicle.
Daylight Harvesting
Daylight harvesting dims the light-level when daylight is available to light the space.
High-End Trim
High-end trim sets the maximum light level based on customer requirements in each space.
Astronomical Time Clock
Astronomical Time Clock automatically turns lighting or other loads on and off according to the time of day and astronomical events such as sunset and sunrise, accounting for geographic location and calendar date.
Scheduling
Scheduling Adjust light levels for predictable events. Use time of day, motion sensing, and/or daylighting functionality: ex. disable sensors during work hours, enable for after hours.
Energy Monitoring
Energy Monitoring identifies energy usage information to drive decision making & demonstrate savings.
BMS Integration
BMS integration controls heating, ventilation & air conditioning systems through contact closure or BACnet protocol
Cellular or Ethernet Connection
Cellular or Ethernet Connection A cellular gateway option requires no connection to the building network and illuminates the need for ethernet drops.
Email Alerts
Email Alerts allow for immediate recognition of any fixture issues enabling prompt troubleshooting and improved safety.
Superior Performance
Wireless means easier commissioning and installation, and High Density Mesh (HDM) technology ensures reliable communication and extended range. A node in every fixture provides motion, daylighting, and power measurement capability. Jobs typically require only a day or two for on-site startup. Once installed, facility managers have quick access to fixture status from a smart device and receive real-time alerts for more efficient management of outdoor lighting.
Reduce Risk: Improve operations and safety: Group motion sensing creates a completely illuminated floor instead of one fixture at a time reduces dark spots and provide adequate lighting for cameras plus less fixture downtime due to alerts which provide actionable data to operations staff.
COMPATIBLE PRODUCTS WITH LUTRON LIMELIGHT
One Control Provider - Lutron
Enterprise Vue: Allows your facility team to manage data and operations for multiple Lou Tron lighting and shade control solutions.
Enterprise Vue provides a single data and management platform for your connected buildings
The system interface delivers a simple, consistent user experience from any PC or tablet
Open, easy integration with BACnet and web API's leverage is the IOT to enhance smart-building performance
System Overview
Simple to design

One gateway per 800 fixtures

Mounting heights from 8 to 40 feet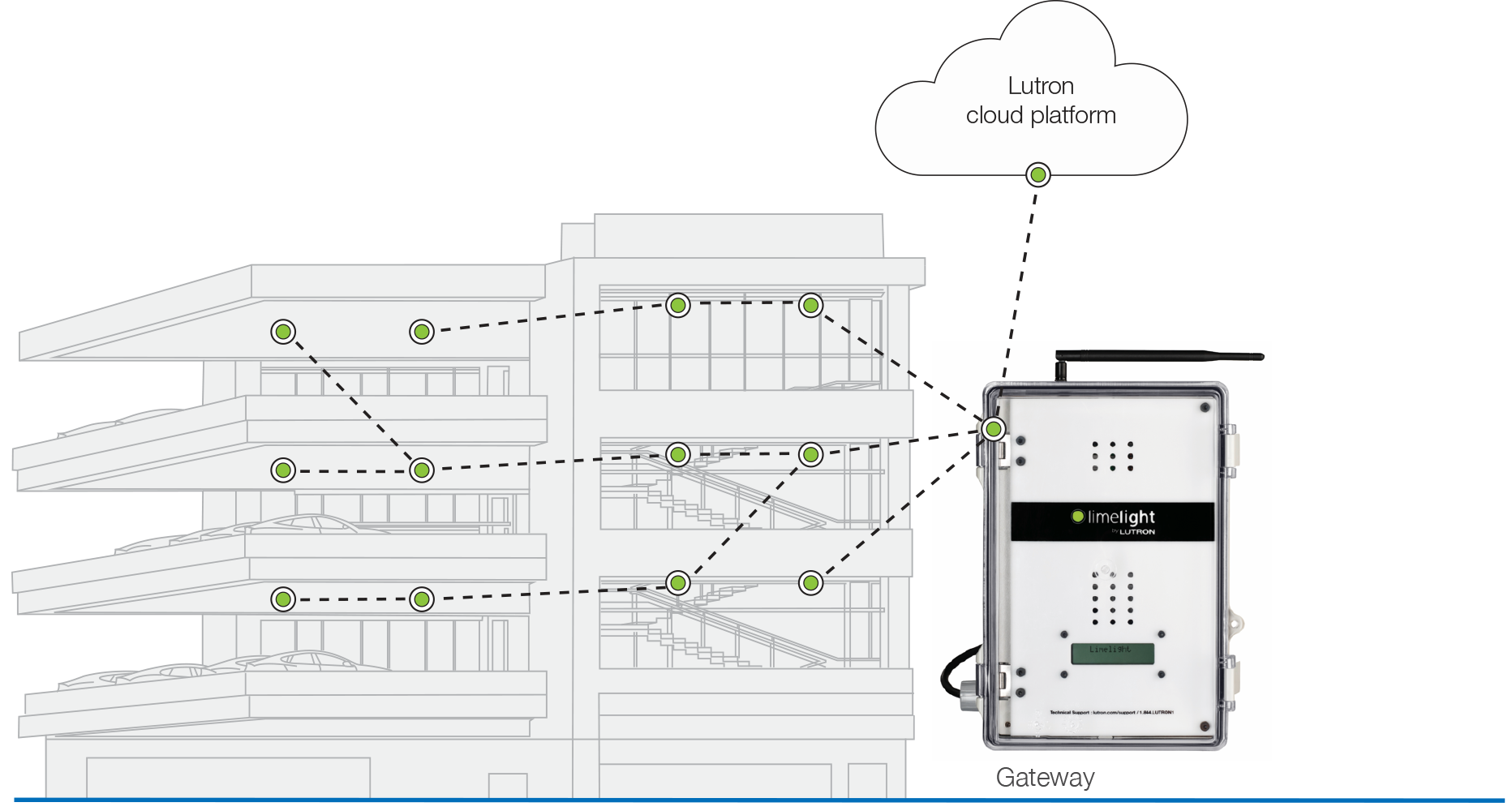 SENSOR SPECIFICATIONS
Motion Sensing Coverage

(not RF coverage or daylight sensing)
LL-PIR-L
Height: 8 ft (2.4m)
(not RF coverage or daylight sensing)
LL-PIR-M
Height: 20 ft (6.1m)
(not RF coverage or daylight sensing)

LL-PIR-H
Height: 40 ft (12.2m)
(not RF coverage or daylight sensing)